Slide Two
Fast . Intuitive . Complete
Randomization and Trial Supply Management
Powerful RTSM functionality simplifies complex processes and expedites clinical trials

4-8 Week Build
Mid-Study Amendments
Feature Enhancements

User Interface
Connected Workflows
Streamlined Documentation

All Complexities
Supports Standards
Full-Service Delivery
Fast: The modular and highly configurable architecture allows studies to be built with speed and ensures efficient mid-study amendments. 
Intuitive: Customers remark on how easy the system is to learn and use. Streamlined project documentation and role-based interfaces place the right information and tasks at the user's fingertips. 
Complete: Seamless integration with the Veeva Development Cloud and third-party applications for a complete clinical trial ecosystem.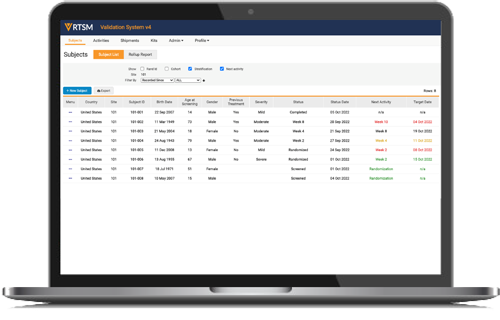 Everything You Need; Only What You Need
Purchase only the modules you need, when you need them.
No Compromises on Study Designs
Combine configuration and customization to design your ideal study, without traditional RTSM limitations.
Maximize Supply & Minimize Costs
Minimize drug wastage with advanced supply shipment scheduling and expiry management tools.
Exceptional Service Delivery
Veeva RTSM experts guide you through every stage of setup and study execution.
Randomize patients with timeliness and accuracy.
Multiple randomization schemas are available including: static, stratified (single or multi-variable), dynamic / minimization, forced, and adaptive.
Re-randomize patients when needed.
Easily configure eligibility, stratification, and other related questions to randomize subjects appropriately.
Supports capping and can tightly control sentinel dosing.
Reconfigure key settings during a study, such as activating a cohort or modifying limits on total subjects.
Biostatistical services team generates randomization and/or kit lists, if needed.
Optimize the supply management strategy for your trial's needs.
Trigger site shipments according to trigger/resupply thresholds, predictive inventory control, just-in-time options, and more.
Adapt supply settings during study execution, e.g. to change resupply levels based on actual site enrollment numbers.
Track all types of supply materials with blinded and unblinded views, temperature management, and connections with shipping providers.
Supports complex patient dosing schedules including titration and dose escalation.
Trace the entire kit lifecycle for end-to-end drug accountability.
Slide One
"Not only did they provide a highly configurable solution to manage randomization and drug distribution, they were able to easily integrate with our existing EDC. We completed setup, integration, and training on time and within budget."
CTO, Atlantic Research Group, Inc.
Slide Two
"The Veeva RTSM Project Managers are knowledgeable, helpful, and timely in responses, always willing to go above and beyond to assist. The Helpdesk team has been equally impressive. Veeva RTSM is the vendor I rarely need to think about because study sites find the system easy to use."
Sr. Clinical Trial Manager, MTEM
Slide Three
"Things we want to implement in the Veeva RTSM system seem possible."
Senior Director, Clinical Operations, Replimune Group, Inc.