Current Challenges
In a recent webinar, we asked the audience to highlight the challenges they have with randomization and trial management in their clinical trials.
The word cloud below was generated as the participants entered their challenges verbatim.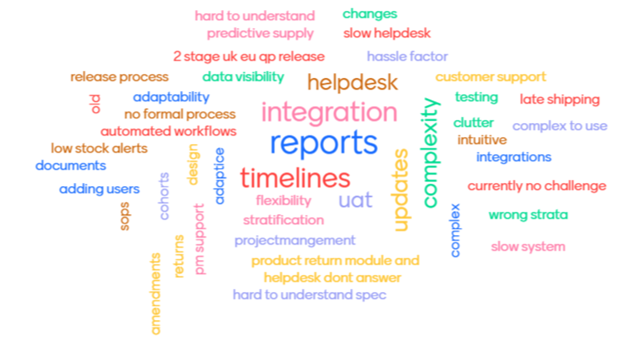 These are issues that have plagued the RTSM space for decades: integrations, help desk issues, study updates, study complexity, adequate reporting, and timelines to name a few.
Many solutions have been proposed by different RTSM (IRT) vendors over the years. For example, some providers have:
encouraged a 100% configurability product strategy to speed up and simplify study builds
pushed enablement models forward for customers to build studies themselves, and
embedded RTSM functionality into other solutions such as EDC to try and overcome integration problems.
However, despite these efforts, the same longstanding challenges remain and are arguably becoming magnified by increasing complexity, aggressive timelines and budgets. These solutions also risk creating manual workarounds for more complex designs, teams making critical errors in design, and poor end user experiences.
While teams battle with these old challenges, new challenges will also continue to emerge: changes in regulatory advice, systems to keep pace with the scientific demands, and global pandemics to name a few. RTSM providers must balance addressing both the old and any potential new obstacles.
Veeva RTSM Approach
Veeva strongly believes that RTSM is a mission critical system that should never be commoditized. Solutions that try to oversimplify the product, fit highly complex and nuanced designs into a series of check boxes, and reduce or even eliminate services and support offerings are not primed for customer success.
RTSM requires excellence and innovation in product AND in services to achieve customer success across all types of trial design.
Through Veeva RTSM, we are:
Providing high levels of configurability and enhancements through customization when appropriate.
Retaining ownership of build activities to ensure accurate and optimal design for all studies. Our expert RTSM services team delivers high quality study builds in fast timelines and ensures customer success on all trials from award to closeout.
Committed to investing in continuous product innovation.
This approach helps prevent the need for manual workarounds, removes risk and burden from sponsors in this critical area. It also ensures that the system is continually adapting to meet any new or unforeseen market needs.
Stakeholder Specific Challenges
The webinar audience also highlighted a number of challenges that are specific to certain stakeholders, for example, to trial supply management, data management, site end users. In upcoming articles, we will delve deeper into these areas to discuss how this approach applies to these in more detail.